Why is the endometrium lining thickness important for fertility?
The thickness of the uterine lining is almost as important as the number of eggs that are developing for successful implantation and pregnancy. Improving the thickness of the uterine lining can greatly increase your chances of conceiving as it is providing the nourishing bed in which the embryo develops.
The optimal thickness of the endometrial lining is between 10 and 15 mm with it reaching its maximum thickness at the time of implantation at around day 21 of a woman's menstrual cycle. The growth of the endometrial lining is dependent upon the quality of blood flow to the uterus as well as the effect of oestrogen in encouraging the lining to develop. Therefore the treatment approach when working with women that are prone to having a thin uterine lining is to increase blood flow to the reproductive organs, increase the receptivity of the uterus to oestrogen and balance reproductive hormones.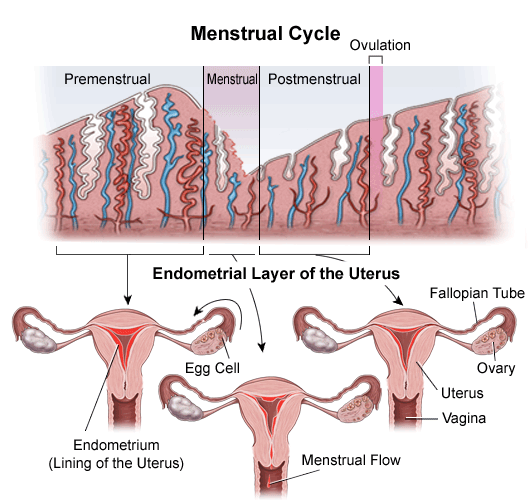 How can our Acupuncture Clinic Brisbane and Traditional Chinese Medicine support the growth and thickness of the endometrium lining?
Traditional Chinese medicine and acupuncture approach to improving the thickness of the endometrium lining involves focusing on both improving oestrogen response and increasing blood flow to the uterus. Studies have shown that acupuncture applied in the lower abdomen and on the lower limbs can increase blood flow to the uterus and ovaries. Acupuncture is also effective for relieving stress and relaxing the sympathetic nervous system through the release of endorphins in the body. This can increase the body's ability to produce and respond to changes in hormonal signals and increase overall blood flow throughout the body. In addition to acupuncture, Traditional Chinese Herbs can also be administered to support the growth of a healthy endometrium lining. Chinese Herbs such as Angelica (Dang Gui) have been shown in studies to positively influence oestrogen levels to stimulate the growth of the endometrium lining. Flattened milk vetch seed (Sha Yuan Zi) is another Traditional Chinese Herb that is often administered and clinical trials have shown it to be effective in increasing the blood flow to the uterus. Unique mixtures of Herbal medicine, however, are provided based on an individualised diagnosis.
Studies showing the effectiveness of acupuncture on the thickness of the endometrium lining
The following provides an abstract from a small pilot study which examined the effect of Viagra and acupuncture on the uterine linings of women who had a history of thin linings (<8mm) in previous IVF cycles (including patients who had previously used Viagra alone).
Abstract
Endometrial thickness has been shown to be an important prognostic factor of successful embryo implantation. If the endometrial thickness is less than 9 mm there is a significant reduction in live birth rates. Though there is conflicting data, preliminary evidence suggests that the administration of vaginal Sildenafil can markedly improve endometrial thickness and result in increased live IVF births.
Our clinical observations are consistent with this. However, other clinics report inconsistent results. Therefore, we hypothesised that the difference in response between clinics may involve other factors. When we looked into this, we found that many of our patients were simultaneously receiving acupuncture treatments.
Studies on acupuncture have demonstrated positive effects on implantation rates, ongoing pregnancy rates and the number of live births. Acupuncture has also been shown, via measurements of pulsatility index, to significantly increase blood flow to the uterus. Decreases in pulsatility index have been shown to significantly improve pregnancy rates.
Researchers have also found that acupuncture has direct effects on the endometrium. Some of these include increases in progesterone receptor concentration, a reduction in COX-2, and an increase in the activity of nitric oxide synthase.
Therefore, the purpose of our investigation was to evaluate the effects of combining acupuncture and Sildenafil suppositories on endometrial lining.
Results
All four subjects achieved endometrial lining thickness of greater than or equal to 10 mm following the administration of the combination of acupuncture and Sildenafil: including one patient whose lining did not exceed 5 mm in a previous cycle. Another patient, who had not responded to Sildenafil alone in a prior IVF cycle, responded to the combination of Sildenafil and acupuncture. We also noted that endometrial thickness in most patients continued to increase post-hCGadministration.
Conclusions
This pilot study is consistent with previous reports that acupuncture improves uterine lining measurements over previous cycles. This preliminary data supports the potential for a synergistic action between acupuncture and Sildenafil. We hypothesize these effects may be due to acupuncture's ability to upregulate nitric oxide synthase. However, we cannot rule out other mechanisms of action since acupuncture has also been shown to affect many other parameters. The results of this preliminary data may also suggest a role for a similar combination in treating erectile dysfunction. Further testing and data is necessary to verify these results.
References
Yu W et.al.A Pilot Study Evaluating the Combination of Acupuncture with Sildenafil on Endometrial Thickness Presented at the Pacific Coast Reproductive Society Annual Conference 2007
Click here to read about a case studies about Acupuncture for thin Endometrium lining.