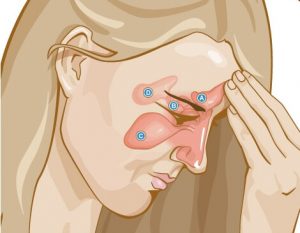 This time of year we see a lot of people with sinus related issues. Recently we had a woman come to see us with chronic sinusitis. She had all the symptoms: facial pain and pressure around her nose, eyes and cheeks. Jaw pain, ear pain, headaches, slight swelling and a cough caused by phlegm. By the time she saw us she had been on antibiotics for 8 weeks with no relief and was taking a lot of painkillers.
She had been to an ear, nose and throat specialist who suspected the problem was her tooth. She went to the dentist and had a tooth removed but nothing improved. This was when she decided to try something different and came to see Jane Ma at AcuNatural Health.
Jane was able to explain her sinusitis was because of the build-up of phlegm in her face. Jane recommended weekly acupuncture treatments with Chinese herbal medicine as treatments.
Immediately after her first acupuncture she said she could breathe easier. A week later she came in feeling better saying she hadn't needed to take as much painkillers as before treatment. Her pain and pressure was less, her swelling had reduced and she'd had less headaches.
At her third treatment the next week she said she hadn't needed any painkillers and her symptoms had cleared. The only remaining sign was when she pressed on two pinprick size points above her eyes she felt a slight pain.
She is now seeing Jane for other issues including boosting her immune system to reduce her chances of going through another bout of severe sinusitis again. She comes in now with no signs of sinusitis issues.
For more information on acute and chronic sinusitis from a Traditional Chinese Medicine perspective please read our blog post.
If you or someone you know suffers from acute or chronic sinusitis you can book in for an appointment with Jane Ma by calling us on 07 3162 6888 or email us at info@acunaturalhealth.com.au. We would love to help you.